Painting on glass with your own hands. Master Class
Painting on glass is a very laborious and rather difficult work, but as a result, the usual glass, transforming, turns into an amazing work of art. You can endlessly peer into the painted glass of experienced craftsmen, admiring their uniqueness and magical beauty.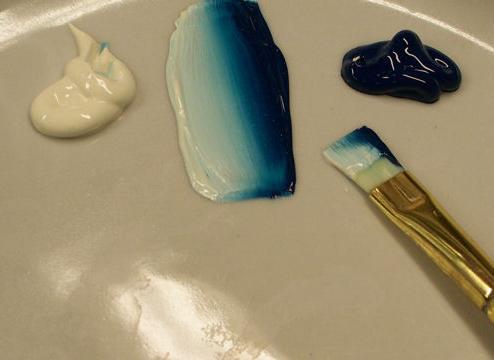 Glass painting with acrylic paints. Materials
1) As a coating, that is, opaque paints, use, as a rule, acrylic. They dissolve in water, mix easily, give bright and clean colors, form a stable, durable layer when dried. When buying acrylic paints for painting, choose those on the packaging marked: "for glass".
2) For acrylic paints it is better to use brushes from synthetics № 1-2. Acrylic paints dry very quickly, so brushes should often be rinsed thoroughly. It is more convenient to do painting on glass with your own hands, using several brushes for different colors of paints at the same time.
3) To work, you need a contour acrylic paste, baguette, 2-3 colors. Look good gold, silver, bronze color.
4) Gloss acrylic lacquer.
Painting on glass with your own hands. Equipment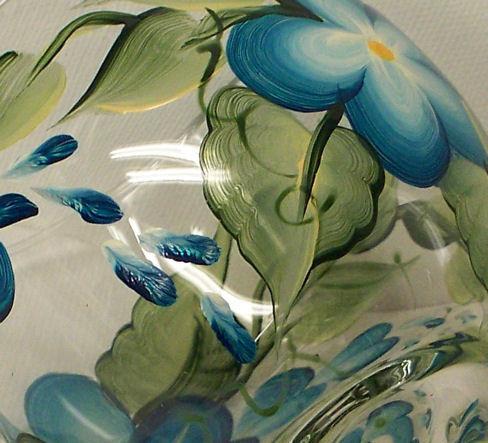 Despite the relative complexity of this type of art, it is possible to perform some types of artistic painting on your own. How to make a painting on the glass with your own hands:
1. Glass is required to degrease. This can be done with acetone or alcohol.
2. Paste for restoration is much thicker than the contour, so it looks more relief, similar to metal wire. It is convenient to paint glass bottles and glasses with it, not drawing, but as if winding "wire" from a certain distance, turning the object in a circle. In this case, arbitrary intersecting lines are formed, forming a complex pattern of the future mosaic. Even if the line is accidentally interrupted, not terrible - you can start from any place. It is only necessary to ensure that the cells formed by intersecting lines are not very large. On each item of painting you can apply a paste of different shades. The finished product will look better if the drawing will take no more than 1/3 of the surface. Next, you need to give the product to dry.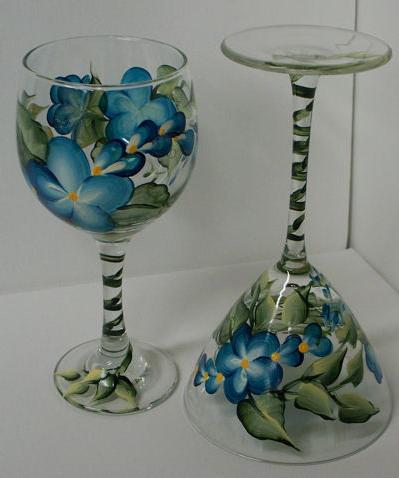 3. Fill the cells with different colors.It is important to fill the entire area of ​​the cell paint. On the palette lay out two contrasting colors, for example, blue and white, and add silver or gold. White and blue give the whole range of blue shades, where gold adds iridescent gold threads. On the brush type three colors at once, without stirring them. Carefully spreading on a glass, fill the entire cell. Paints arbitrarily spread over the cell, without leaving the contour, creating a very picturesque effect.
4. To fill the neighboring cells, it is better to take bright contrasting colors, and if some cells are left empty, this will give the product lightness and airiness. Paint, mixed with varnish in a 1: 1 ratio, after drying, will acquire transparency, and we will get stained glass cells.
5. For a longer and brighter life of paints, after thorough drying, finished products should be baked in a conventional oven for 20 minutes at 120 degrees.
Conclusion
A glass painting with your own hands will allow you to create a product that can be a wonderful gift for true art lovers.
Related news
Painting on glass with your own hands. Master Class image, picture, imagery